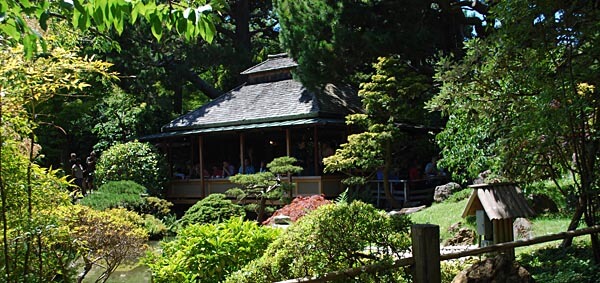 San Francisco's Golden Gate Park is home to the oldest public Japanese garden in all of California, the Japanese Tea Garden. For a small admission fee, visitors can walk through the large garden and admire all that it has to offer. If walking helps you work up an appetite, then you can also partake of tea and cookies while there.
The garden is home to a large variety of beautiful flowers and plants. It also has koi ponds, waterfalls, pagoda towers, and many more beautiful features that help make it well worth its admission price. It is beautifully maintained and helps to give the feeling that you're off visiting Japan rather than San Francisco. If you would like to try to plan a visit there, try to do it in the early Spring when the cherry blossoms will be in full bloom. It'll make your visit to the garden even more magical.
Japanese Tea Garden address and hours
Advertisements:



Japanese Tea Garden
75 Hagiwara Tea Garden Drive
San Francisco CA 94118
In San Francisco's Golden Gate Park, east of Stow Lake, between John F. Kennedy Drive and Martin Luther King, Jr. Drive.
Open daily, no holiday closures.
Summer (3/1 through 10/31): 9:00 am to 6:00 pm
Winter (11/1 through 2/28): 9:00 am to 4:45 pm
Photo by SuzieWong on flickr
You should follow me on twitter here.