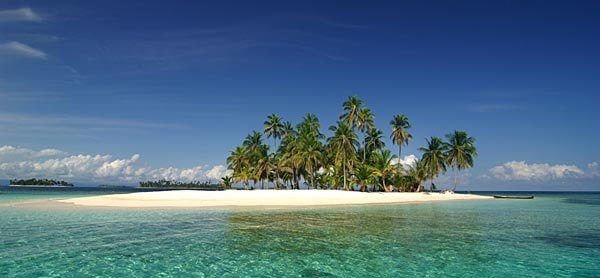 If you're looking for a vacation to somewhere that has beautiful white-sand beaches, crystal blue water, and palm trees, then the San Blas Islands, Panama, might be for you. The "might" is the key word here, however, as you should not plan a trip to the San Blas Islands if you're looking to stay at a ten-story resort hotel with a pool bar and daily parasailing trips. The San Blas Islands are a rare idyllic beach destination, meaning that they remain relatively untouched by the conveniences of modern living.
The San Blas Islands are an archipelago of 378 islands, set in the Caribbean off the coast of Panama. Only 49 of the islands are occupied. The occupants are a native tribe known as the Kuna Yala. Don't get the wrong idea, the Kuna are a friendly people and accept tourists with open arms. Despite tourism, however, they have maintained their indigenous customs. One example of this is how limited electricity is on the islands. Only some homes and hotels have it, but even those that do often only run generators during the day and then go dark at night.
Advertisements:



The Kuna, however, have a fascinating tradition that is evident in their colorful dress and the crafts that they sell to visitors on the island. The San Blas Islands are home to tropical fish and wildlife, and are surrounded by colorful coral reefs. One can arrive on the islands by boat, plane, or land. The trip by boat from Colombia can take about five days, and those interested would be wise to ensure their vessel has adequate space for all its passengers before stepping on board! The San Blas Islands are a rare rustic destination that boast an untouched beauty found in few other places. One just must be certain they are seeking an experience that is not exactly Club Med and has a little taste of "Survivor."
Photo by whl.travel on flickr
You should follow me on twitter here.