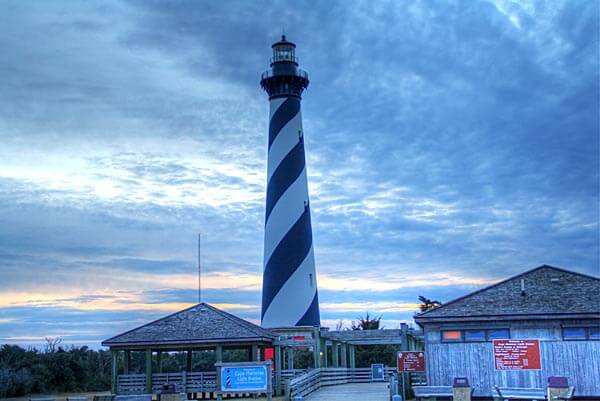 Cape Hatteras is located on the Outer Banks in North Carolina. There are three possible ways to get to Cape Hatteras and they are private plane, car, or ferry. If you are coming by car you can drive in on Highway 12 or you and your car can come over on the ferry from Ocracoke Island. If you are boating in there are marinas located at the south end of Cape Hatteras. The last choice is to land your plane at the small airfield run by the National Park Service. The easiest way to get around Cape Hatteras is by car, but if you are going to stay in only one village you can make do with a bike.
There are seven villages on the island with Avon being the main village. Avon is where the most stores are located, including the largest grocery store and a movie theater. If you are looking for the quiet villages head to the north end of the island where the villages of Rodanthe, Salvo and Waves are located. All the basic necessities are located there but they are the quietest villages. Head south to either Avon or Buxton for the most developed villages. Frisco is another quiet village where a lot of rental properties are located. The last village is Hatteras Village, the most upscale village on the island.
Advertisements:



Some attractions not to miss are the Cape Hatteras Lighthouse, Chicamacomico Life-Saving Station Historic Site, Graveyard of the Atlantic Museum, and the Wright Brothers National Memorial. There are quite a few art galleries to visit and restaurants to enjoy. Don't forget to enjoy the outdoor activities such as kite boarding, deep sea fishing, paddle boarding, bird watching, sunbathing, swimming, camping, and that is just to mention a few of the activities If you are tired of physical activities be sure to hit the stores and the delicious seafood restaurants.
If you go once you will fall in love with Cape Hatteras and definitely want to return.
Photo by Serithian on flickr
You should follow me on twitter here.