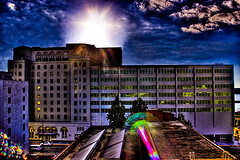 Credit crunch. Recession. Lay offs. No, not just manufacturing but also travel is suffering heavily from the poor economy. And while that means many can't travel at all as the income is gone, for those who still have jobs, it means there are deals everywhere right now.
Advertisements:



Until June 2009, the average hotel room price globally fell by 17% compared to the same period last year. This means rates are the lowest they've been since 2004, wiping out 5 years of hotel rate rises.
Here are some examples:
London, one of the world's most expensive cities, is going through a tourist and business traveler drought. Visitor numbers are 9% down on last year. That means average hotel rates are now £10 ($16) cheaper per night than in 2008 and are heading downwards as competition gets heavier.
This means London travel is becoming a better deal than it has been for many years. Research by the investment bank UBS last month suggested London had fallen from the second most expensive city in the world to the 22nd most costly.
What goes for London also goes for metropolises like New York, Paris, Rome, etc. And if these tourist hubs are suffering, the more remote areas are probably seeing an even worse tourist drought. Which means great deals are to be had.
North American prices have fallen by the average 17% year on year, which means it might be time for a road trip before the winter cold sets in.
Europe fares only a little better than average, with rate drops of 16%.
Latin America has probably seen the biggest drop, which is good for American travelers. Rates are down by 18% or more.
Brazil, and the Caribbean, seem to be the most known exceptions right now. Prices in Brazil are overall are much cheaper than in the U.S. and that means travelers' costs in the country are quite reasonable. And as Brazilians are traveling more in their own country, occupancy rates are up. Caribbean occupancy rates are holding steady, and prices are only down 2% so far.
You should follow me on twitter here.