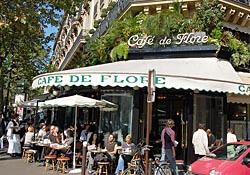 Paris is the origin of European café culture. While the recent credit crunch has made life more difficult for café owners, today's Paris still has the highest number of historic coffeehouses still open. Café de Flore, in the hip Saint-Germain des Prés neighborhood, is one of the most charming. Here, backpackers and the Parisian elite mix under the heaving flower pots decorating the façade.
Café de Flore sits on the corner of the Boulevard Saint-Germain and the Rue St. Benoit, in the VIe arrondissement of Paris, France. During it's long history, the café has held host to much of Paris' intellectuals, sometimes it seems in competition with its main rival, Les Deux Magots. Myth has it that Jean-Paul Sartre and Simone de Beauvoir would meet at Café de Flore and discuss their philosophy of existentialism over a drink.
The classic Art Deco interior of all red seating, mahogany and mirrors has remained mostly unchanged since the Second World War. The Prix de Flore, a literary prize inaugurated by Frédéric Beigbeder in 1994, is awarded annually at the Café de Flore. 
Location
Café de Flore
172 blvd St Germain
75006 Paris
Advertisements:



Phone: +33 1 45 48 55 26
Website: www.cafe-de-flore.com
You should follow me on twitter here.