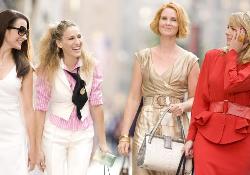 Top picks of fabulous Sex and the City locations for those that want to trace Carrie's well-heeled footsteps. A bustling cosmopolitan destination of jammed streets, shops, boutiques and sights, New York is best explored on foot by new visitors and old hands alike.
From the yellow cabs you'll come across everywhere to the Statue of Liberty, the impressive art deco Empire State Building to the bright lights of Times Square's advertising signs, much of what we think of as the U.S. is really New York. Iif you are looking for a metropolis that combines cool sights and an buzzing energy that's not equalled anywhere but London, New York is the place to go.
For shoppers and sightseeing fiends, musicals on Broadway to martinis at a sophisticated bar, deli sandwiches and coffee to trendy night clubs, New York caters to every taste and the best way to experience the canyon-like avenues between the skyscrapers and jumping street life of New York is on foot.
But when you are exploring one of the largest cities in the world, where do you begin? Follow this Sex & the City walking guide to New York City for some very trendy ideas.
Sex & the City locations in New York
Magnolia Bakery at 401 Bleecker Street on the corner of West 11th Street in the West Village – where Carrie and Miranda devour cupcakes
Jimmy Choo's boutique, one of Carrie's favourite shoe shops, is located in the Olympic Tower at 645 Fifth Avenue
Advertisements:



The Louis K. Meisel Gallery at 141 Price Street – the Gallery where Charlotte worked
Tiffany's, where Charlotte's engagement ring came from - 727 5th Ave
Down the Hatch Bar, 179 W. 4th St - where Samantha bought a joint from the barman
Bungalow 8, 515 West 27th Street. The hotspot Carrie's date has a key to gain access to
O'Neal's Speakeasy, 174 Grand Street in downtown Manhattan. This is where scenes from the girl's local bar Scout were shot
Tao - 58th and Madison – the popular night spot where Carrie bumps into Big and his supermodel date
The Patricia Field store, 10 East 8th Street in Greenwich Village. Here you can buy stylish bargains from the famous Sex and the City stylist's own shop
The Church Around the Corner, East 29th Street between Fifth Avenue and Madison Avenue, where Samantha met the Friar
Your tips
Do you know of any other great Sex and the City locations in New York? Share them in the comments below!
You should follow me on twitter here.