Waiting in line for a free burger is out of the question for me. So waiting an hour for a 60-second ride is not going to happen. Luckily, Orlando is catching on. Several of the smarter Orlando hotels and amusement parks are coming up with ways for people to play more and wait in line less.
Aquatica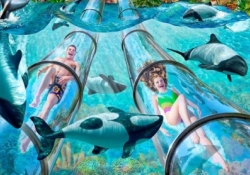 SeaWorld's Aquatica is a new waterpark does something no others in Orlando do; it closes the park once capacity is reached. This is a very good thing, as it keeps waiting times lower and the park less crowded.
Thanks to this revolutionary policy, waits are rarely more than 20 minutes, there are plenty of tubes, chaise lounges and chairs, and the staff-to-guest ratio is high.
For people with pre-teen kids, this park is summer paradise. Once they get a look at Walkabout Waters, a 15,000-square-foot water playground unlike any other, the kids will forget about the other amazing activities such as:
Tassie Twister - This "toilet bowl ride," as the kids will call it, twists riders around and eventually dumps them into a pool below
Roa's Rapids - An unlazy river that has 1,500 feet of rapids going 3-4 times faster than the typical waterpark river - while keeping things safe enough for the kiddies to ride it
Dolphin Plunge - The 250-foot-long tube includes a stint through an aquarium of bonsai-size killer whale look-alikes
If you live nearby Orlando, buy a season ticket as it's a very cool and fun park to visit.
Universal Orlando/Islands of Adventure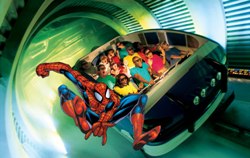 Universal Orlando has turned its 'number 2' status to their guests' advantage. Always being in Disney World's shadow means they try harder. One of the programs aimed at pleasing visitors, which won me over this past weekend, is the VIP tour program.
Experienced and dedicated tour guides will show you around the same way as they've guided celebrities like Janet Jackson, Dan Marino, and former Presidents. Groups of 15 or so are given behind-the-scenes access, front-of-line privileges, and previews of attractions being built (including the future Harry Potter ride). Naturally, the two main advantages were zooming right to the ride with absolutely no waiting, and getting to select your own itinerary, with your guide's seasoned advice.
Private tours for groups of up to 12 people cost $1,400 (plus tax and park admission) to spend up to eight hours with a dedicated guide at one park with a tour completely customized to the group's interests. The price goes up a bit for two parks.
There is also the non-exclusive VIP tour, which is a more economical choice for small groups. For about $100 per person (plus park admission) a guide leads you and other VIP guests (max party size is 12 and time is five hours) on a tour of their choice. You'll also get priority entrance to at least eight rides. Unfortunately, groups do not get to pick which rides, so this is a better choice for people who are flexible.
Another fabulous way to bypass the lines at Universal is to stay at one of the three Loews partnership hotels (including Loews Portofino Bay Hotel and Loews Royal Pacific Resort). Simply show a valid room key and you get to go in the Express line (as part of the "Universal Express" program). Considering room rates are fairly reasonable compared to other local mid-price hotels (starting at $219 per night) this is a big benefit for anyone whose time is as valuable as their money.
SeaWorld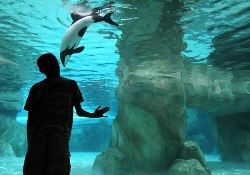 At SeaWorld, cutting the lines also gets you up close with the animals. The Elite Adventure Express is the red carpet Sea World experience: best seats in the house for two live shows, front-of-line access, animal encounters, and a meal at Underwater Grill. Guests pick their own itinerary and get six full hours with a dedicated guide ($1,800 for up to 12 people, plus park admission).
The Adventure Express tour $120 for adults, $100 for children, plus park admission) has similar benefits, including the chance to feed dolphins and sea lions. It lasts seven hours but has a predetermined schedule that cannot be altered by guests.
New this summer is the SeaWorld Night Adventure Tour. Designed for adults, it's a five-hour front-of-line access tour for the Kraken and Journey to Atlantis rides, reserved seating at the shows, and dinner at the Brewmaster's club where guests can sample a wide variety of fresh beers and new Anheuser-Busch products ($100 per person, plus tax and admission). Over 21 only.
Advertisements:



SeaWorld also lets you print tickets from home to cut the lines at entry.
Disney World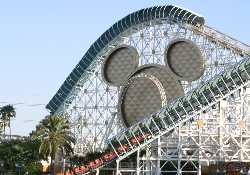 The only way to avoid the crowds at Disney World is either to do the FASTPASS method you all know and love, or to stay at a hotel that offers guests special resort guest-only hours. Alas, unless you are a uni-name rock star or group who can rent out the park after-hours, your best bet is to learn a good FASTPASS strategy.
You should follow me on twitter here.