As one of the best meta search engines in the travel sector, Lowfares.com is also the granddaddy. Around since 1995, it's a web pioneer and now going stronger than ever.
The site's current success is built on making all the 'net's travel booking options available on one site, simplifying the travelers' quest for a really good deal. We're talking about much more than just cheap airline tickets, as they're covering hotels, car rentals, and vacation packages all under one roof. To quickly go to the right search section, click on one of these buttons at the top right section of the screen:

There's also a Deals section which lists a range of special offers from both Lowfares.com and other sites such as Expedia, Travelocity, JetBlue, and so on. I found this to be a jumble, as the only organization so far is columns with the type of deal, i.e. Car, Hotel, Cruise, etc and the deal itself with a link. It would be great to be able to sort these deals by both type and price. Much faster and better usability, which I'm sure would help Lowfares.com increase the sales in the Deals section.
Making a booking at Lowfares.com
Starting a booking is easy, you put in your departure airport, arrival airport, the dates you wish to leave and return, and the number of travelers. There's some nifty AJAX magic to help you pick the right airports and pop-up calendars make sure you get the right dates for your trip. This is what it looks like and we're using airfares in our example: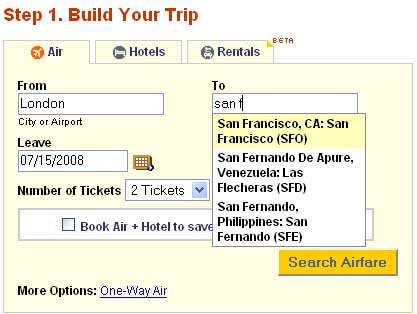 Note the check box for booking Air + Hotel packages. I've tried it and it works well to give you a discount on the bookings. Nothing major, but every little bit helps for this budget traveler. The Hotels and Rentals tabs are just as simple to fill in. So, what are the results like?
On the next screen, you pick a few other sites to compare Lowfares.com's results with. For this example, I got Kayak.com, Sidestep.com (which is actually another Kayak website now), and OneTravel.com, which I've not come across before. Unfortunately, the comparisons are done in pop-up windows, which I don't like and are stopped in my FireFox browser. More importantly, the comparison search works well.
Air fare search results
For this example trip, I got a best fare at $898, which is quite good for a summer long haul. Ultimately, I would end up booking at Orbitz.com via Kayak.com for this fare, but as I couldn't find the air fare on that site, Lowfares.com really delivered.
To quickly compare, I also searched Travelocity.com and Expedia.com for the same itinerary, and neither came up with quite as good a price this time.
Overall site impressions
Lowfares.com could improve in a few areas, such as usability and removing those annoying pop-ups. However, the back end, i.e. searching for deals, works beautifully. And that, really, is what counts for a time and budget conscious traveler.
Advertisements:



As they say about their site, "A single, easy-to-use website which provides discount travel prices and makes it easy to shop around. We know that we won't always have the best deal but we still want you to use our site when booking a trip. So we created a way for you to simply search dozens of other sites from one place. Simple concept - yes. What people want - we hope so." Lowfares.com also invites feedback on their results and website, which is refreshing.
Lowfares.com certainly has a place in your search for great travel deals. For other alternatives in travel bookings, take a look at eyeflare.com's comprehensive list of online travel consolidators and search engines.
Your experiences
Let us know what your experiences with Lowfares.com or other online booking sites are in the comments below. We love to hear your thoughts!
You should follow me on twitter here.