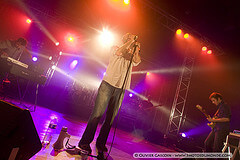 The biggest music festival in Queensland and arguably one of the hottest musical events of the year worldwide, the Splendour in the Grass festival in Australia features three days of partying, playing, shopping and most of all, music, usually during the month of July each year. While the venue sometimes changes and the musical acts differ from year to year, you can expect to hear big-name artists perform each night of the festival. Previously featured acts have included artists like The Vines, Modest Mouse, Elbow, Kanye West and Coldplay.
The venue of Splendour in the Grass is broken up into several sections to make navigating this huge event a little bit easier, even if you've partied a little too hard. There are multiple stages to accommodate several musical acts at a time, the Global Village for all your fan gear and other shopping needs as well as food, and campgrounds so you can stay for the whole festival without missing a single act. Besides the Global Village, you'll find merchandise vendors, eateries, and bars sprinkled throughout the venue so you're never far from the convenience of shopping, food, and a little social lubrication to make the festival that much more festive. Besides big-name artists like Regina Spektor and Jane's Addiction, there are a number of other types of performers offering street-style entertainment to keep you amused even when the music isn't playing – jugglers, fire twirlers, and spoken-word artists are among some of the non-musical acts that will keep you entertained.
Advertisements:



You can feel good about attending Splendour in the Grass, as the festival planners are eco-friendly and throw their support behind green causes, such as providing carbon offset tickets to purchasers who both want to reduce their carbon footprint and who want to donate to worthy environmental causes. So not only is Splendour in the (green, green) Grass an awesome music festival and three-day party event, it's one of life's rare chances to indulge while supporting a critical cause!
Photo by Les Festins Sonores on flickr
You should follow me on twitter here.