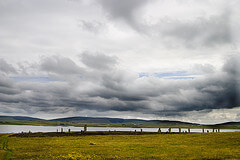 The annual St. Magnus Festival held in the Orkney Islands of northern Scotland and is known primary in the United Kingdom as one of the top venues, primarily for it music, but does include other art forms including drama, dance, and literature. As the festival has grown it has drawn the attention of people from around the world and is on track to become a major destination spot for lovers of the arts.
Held in and around the town of Kirkwall, the entire community pitches in to make the festival a success. This includes showcases of children's productions in addition to the invited performers from around the United Kingdom and the world. The town itself has not changed much to accommodate the festival and the main acts are still held at the town's cathedral. While not designed for this specifically, it does add a special charm to the performances and gives festival goers a more intimate sense of participation.
Another unique feature of this festival is the offering of master conducting and composing courses. The highly sought after slots are quickly filled and sometimes take years before a potential conductor or composer can take advantage of them. The courses are taught by different masters each year so those interested should check well in advance to see if the head of the course is someone of personal interest to them.
Advertisements:



The heart of the festival is the music, and acts such as the royal Scottish orchestra, the Royal string quartet, popular classical music groups and several solo artists perform each year. If you are interested in attending the festival it is important to book your reservations early and plan to do a bit of traveling to and from your lodging as the town's guesthouses and inns fill quickly. Call +44 (0) 1856 871445 for more information.
You should follow me on twitter here.