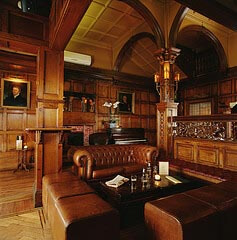 The fancy The Gore Hotel in London's South Kensington now serves tapas in the chic Bar 190. Not only that, they're a bit of a bargain too.
All the menu items at Bar 190 are priced at £4.50 or less, which is definitely a great price for food anywhere in London. Even more so when you're eating at a luxurious boutique hotel in South Ken.
Advertisements:



Even if you're not eating, the bar is a relaxed setting for a drink or two. The walls are panelled in mahogany, there are lit candles on the tables, and very comfy leather sofas everywhere. It's like being in a private members club, which is nice as most of the best venues in London are out of reach for the majority who lives here.
This time, we had some steamed clams in white wine and garlic sauce, patatas bravas (always a favorite), pulpo gallega, gambas pil pil, and chicken livers cooked in red wine. All were good, very good in fact, even though livers aren't on my list of favored foods.
And, The Gore Hotel also hosts burlesque evenings, which are great fun.
Gore Hotel address
The Gore
190 Queen's Gate
Kensington
London
SW7 5EX
You should follow me on twitter here.