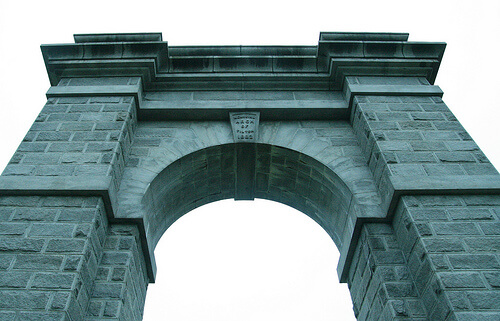 Beware of wealthy tycoons who have too much time and money on their hands. Such was the plight of Charles Tilton. While on vacation in Rome in 1881 he came up with the brilliant idea of designing a giant arch that would honor his family and be visited by thousands of tourists each year. But most importantly it would be the final resting place for his family.
Since the town of Tilton was actually named after his grandfather Charles had no trouble acquiring the permits to undertake such a lofty project. The original arch which sat on a hilltop was built of Concord granite and measured a massive fifty feet high and forty feet wide. Later for good measure he added a red sarcophagus with a sleeping giant.
Advertisements:



Sadly like most plans this one failed to materialize. This Arch did not attract many visitors and when Charles died he was actually buried in another town in relative obscurity. Today the arch sits in total abandonment and except for the few curious, the lion rests in peace. To add final insult to injury tall trees have grown up around it and no one seems to care. This was definitely not what Charles had in mind when he took that Roman holiday.
Photo by ArchibaldBenjamin on flickr
You should follow me on twitter here.