Staying fit while on the road is sometimes difficult. An new portable version of kettlebell called Kettlestacks can make it much easier.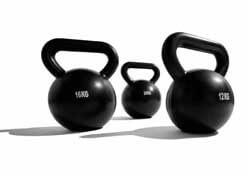 For those that don't know, a kettlebell is a traditional Russian castiron weight looking somewhat like a cannonball with a handle. Working out with kettlebells is great for strength, endurance, dexterity, power, and a number of other metrics, and it's also efficient. That means a kettlebells workout can be done in about 25-40 minutes rather than 1.5 hours. This is done by combining huge compound movements that work out many mucle groups at once with classic heavy weights.
For more information about how to work out with kettlebells, take a look at liftkettlebells.com. There's also a good article on kettlebell fitness at MSN UK.
You might think that kettlebells wouldn't be very useful for traveling, as they weigh anything from 5 lbs to 75 lbs or even more. Definitely not worth is on your backpacking trip in Southeast Asia. That's why the new Kettlestacks are a really good solution.
What are Kettlestacks?
Advertisements: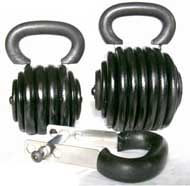 Kettlestacks are portable kettlebells. They've achieved this by simply removing the weights from the kettlebell setup, making a lightweight frame on which you load your own weights. This has the benefit of both matching your ideal weight range, but also that the frame - or rather handle - will easily go into a suitcase or even weekend carry-on bag while traveling.
You then load up the Kettlestack with standard free weights like those in your normal gym or home gym. In fact, these free weights are so cheap that if you're leading a nomadic life, it's worth buying a set if you're staying in one place for a few weeks!
The Kettlestack handle itself weighs about 2 lbs and will hold up to 70 lbs comfortable for the smallest model. There are two larger ones, the largest of which will take weights up to 95 lbs, which is a very heavy weight for a kettlebell workout.
Here's a video of a kettlebell workout:
Where can you buy Kettlestacks?
Kettlestacks are available from Kettlestack.com and come with free shipping in the U.S. You can also get Kettlestacks from Amazon.com if you prefer shopping there.
You should follow me on twitter here.