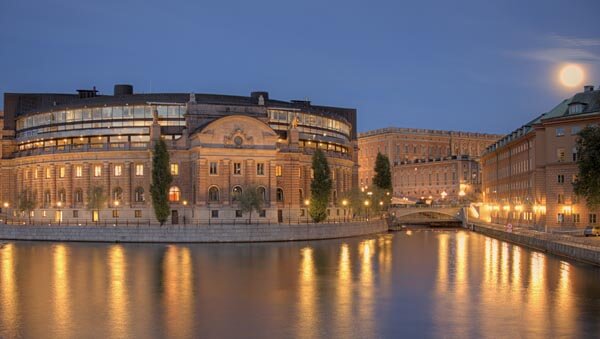 A wonderful place to visit is Stockholm, Sweden. Stockholm is the capital and largest city in Scandinavia. It is the site of the Swedish national Government and the seat of Parliament. Visiting Stockholm should include a stop at one of the best known sites in the city: Riksdagshuset, the Swedish "House of Parliament".
The building was designed by Aron Johansson and building it took from 1897 to 1905. In 1971 some construction was done inside the building to replace the bi-chamber assembly with a unicameral assembly and the bank which occupied a space was removed.
Hour-long tours are given in English throughout the year. You will need to check on the time depending on when you visit. The tours are free.
Spending a hour touring parliament may not sound exciting but spend the time in this fascinating building and see the art of Otte Skold and Axel Torneman. Be sure not to miss the tapestry woven in 200 shades of grey, measuring 54 sq m or 581 sq ft. by Elisabet Hasselberg Olsson. It is entitled "Memory of a Landscape" and will take your breath away.
Riksdagshuset is listed as #58 of 338 things to do in Stockholm. So pack your bags and hop a plane for this interesting city and building.
Riksdagshuset address and hours
Riksgatan 3
111 28 Stockholm
Sweden
Phone +46 8 786 48 62
Take the metro to Centralstationen.
During summer, when parliament is not in session, there are daily tours. During parliamentary sessions, tours are only offered on Saturdays & Sundays. Call ahead for tour times.
Advertisements:



Photo by ooznu on flickr
You should follow me on twitter here.