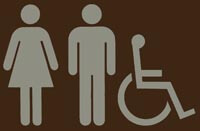 The Bathroom Diaries is the world's largest database of restroom locations. It rates over 12,000 public bathrooms in more than 120 countries. They also have a yearly The World's Best Bathroom competition, where you can submit your own favorite public restroom.
Advertisements:



Handy for finding public restroom locations when you are on the road. As you know, it's not always that easy, which was proven by a new London initiative actually getting some TV broadcast time at the launch of the Sat Lav scheme by London's Westminster Council.
You should follow me on twitter here.