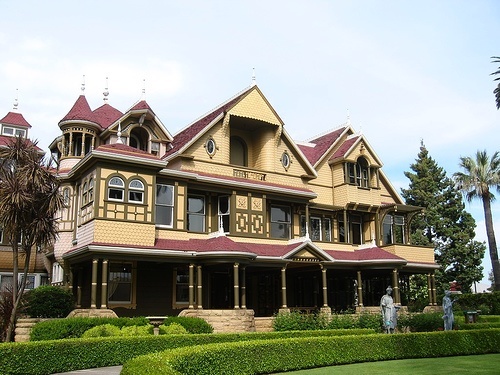 A visit to San Jose, California, would be incomplete without a visit to the Winchester Mystery House. It is so named after the owner who had it constructed, Sarah L. Winchester. It is an absolutely magnificent mansion comprising a staggering 160 rooms. Building work started in 1884 and unbelievably carried on for another 38 years until the death of its owner. These days it hosts tours and events and is a definite must visit in San Jose.
The building was extremely advanced for it time and contains many amazing features including working elevators and modern heating systems amongst other marvels. There are various guided tours available on a daily basis to view and admire the property. The mansion tour takes you on a trip through many of the 160 rooms and on this you can view the many oddities and mysteries which were built into the property. These include strange features such as stairways that lead to nowhere, a window built into a floor and doors that when opened reveal only blank wall.
The gardens of the mansion are also stunning and a tour of these is available. There is also a behind the scenes tour which takes you into relatively unexplored areas of the mansion and also allows you to view the working guts of the property. For good measure there are also a couple of museums, one of which displays Winchester firearms and another which displays antique products which were manufactured by the Winchester Products Company.
The Winchester Mystery House is an architectural marvel and one of the strangest buildings that has ever been built. It makes for a great day out and many of the hotels in the surrounding area offer package deals which include a visit to the mansion. If you get the chance, this is an opportunity that really should be taken.
Advertisements:



Photo by bella731 on flickr
You should follow me on twitter here.