Introduction to Brisbane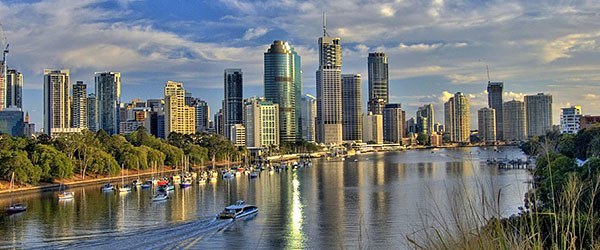 The resplendent capital city of Queensland, Australia, is as fascinating as it is picturesque. Offering so much to do whilst being profoundly beautiful, it is situated around the great river which it is also named after. Furthermore, it happens to be just an hour's drive from the magnificent Queensland coast!
Brisbane is a bustling cosmopolitan Mecca, full of great shopping and dining experiences. It is particularly pretty to dine by the riverside at night, perhaps take a stroll along the banks. You cannot helped but be charmed by this place, as it's full of smiling faces and feels uplifting and happy.
The Brisbane Southbank
This is where you will find some of the best condensed shopping, with plenty of malls and Australia's unique take on high street outlets. 
You will also find lots of extraordinarily talented street performers, doing everything from magic to music. It is all of such quality it will leave you speechless. This is because buskers in Brisbane actually have to audition for permits, so only the cream of the crop get the chance to perform here. A real treat!
Gallery of Modern Art
For those of you hungry for some modern culture, this is the place to you. 3 storeys packed full of the most hip and current pieces of art, everything from more standard paintings to enormous installations.
The staff is very friendly, taking your bag and coat whilst showing you around, imparting there vast knowledge of what art is currently on display, acting like personal tour guides of the gallery.
The Cathedral of St. Stephen
A stunning structure and a fascinating piece of history, this little cathedral is one of the oldest standing structures in Brisbane dating back to 1847. This catholic cathedral, built in Gothic Revival style, looks very archaic with large protruding sandstone towers. Inside is large and spacious, with an almost palpable air, like a physical embodiment of its past. You can still come here to prayers and mass, it still functions as a place of worship.
Brisbane Botanical Gardens
This is a great peaceful day out, located right next to the river. There is a vast amount of strange and rare plant species, intriguing even to the untrained eye. The whole space has a fresh and vibrant feel to it which leaves one feeling invigorated. Looking up at the stylish buildings which make up the skyline, undeniably in harmony with their natural surroundings, is genuinely heart-warming.
More to see and experience
Brisbane also offers lots of nightlife, with many bars and restaurants, not to mention the countless live music venues. This city is a creative place, which is evident in the abundance of art and music, and even down to the way the streets are subtly lit; the whole area feels thought-provoking. At night you will find yet more street entertainment, which makes walking from place to place an event in itself.
Brisbane is a city you can't help falling in love with, being drawn back time and time again.
Photo by
Chris Lofqvist