Introduction to Easter Island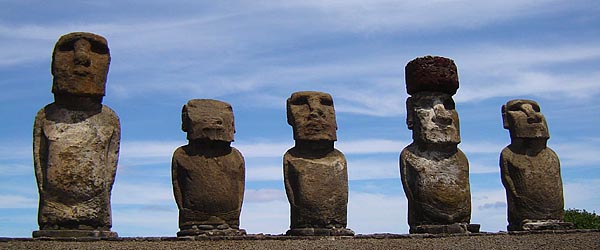 Easter Island is one of a small number of locations in the world that features on most lists of places that should be visited. It is one of the most remote places on earth, with the nearest countries being Tahiti and Chile at an amazing 2,000 miles away. This remoteness makes it a unique and extremely worthwhile place to visit.
Although it is remote, most people will have heard of Easter Island in some form or other due to its most prominent features, these being the carved stone statues which are world famous. These were produced by native islanders in ancient times and almost 900 of them, in various stages of completeness, are located around the island. Some 250 or more of them were placed on stone platforms that circle the perimeter of the island, and the statues are must see when visiting the island.
The island itself is small, but is a beautiful, peaceful and relaxing location which has many archeological delights to see, places to visit and activities to do. The few residents on the island live in the main town of Hanga Roa and are friendly and welcoming to tourists. Staying in the town during your visit will be enjoyable and makes it easy to explore the rest of the island. Some of the sites which must be seen include the Ceremonial Village of Orongo which has been partially restored and was the location of a bird cult that inhabited the island. It is located on a high point of the island and provides magnificent views out to sea. For those interested in the culture and history of the island there is a museum on the island which will provide all the information required.
The waters surrounding the island are clear and warm and this provides excellent opportunities for activities such as sailboat trips, snorkeling and diving. The many exotic tropical fish, corals and underwater landscapes that can be seen while doing this will take your breath away and provide a memory you will cherish for a lifetime. For those who want to relax, the beautiful white sands of Anakena beach provide the perfect location to chill out, enjoy a barbecue and spend some time swimming. Overall, Easter Island has many stunning attractions and is definitely a location that should be visited should the opportunity arise.
Photo by Vtveen on flickr