Introduction to Panajachel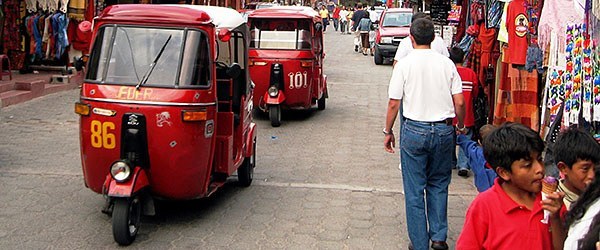 Panajachel (Pah-nah-HA-chel) is a small city of Guatemala that resides on the coast of Lago de Atitlan, one of the major interior lakes. Across the lake stands San Pedro, a tall volcano known for occasionally being covered in snow. The costal road which encompasses the lake is only 60 miles long and can be traveled in a little over an hour. If you prefer you can take the ferry from Panajachel. In the valleys of Central America, at the coast of a beautiful lake you can find tropical flowers, palm trees and a majestic snowy volcano. This is a magical place to visit where water, fire, earth and air seem to be in perfect harmony.
What to see: Hotel Atitlan has provided a variety of paradisiacal gardens and walkways lush with flowers, planned hedges and tropical fronds. The nature reserve allows visitors to see the wildlife as it still exists. With room for strollers and children's activities the reserve is for the whole family. Not too far away the ruins of a Mayan ruin has been excavated. You can walk the plazas and see the temples which belonged to the people of ancient history. And of course there are boat and kayak rentals, paragliding and boating tours all along the lake.
Where to stay: With various visitors, local hotels cater to international clients as well as more local populations. Prices range from Hotel Atitlan which can charge up to US $240 per night to Marvelus Hostel which only charges US $20 so there is a hotel for every budget. Depending on how you want to live on your vacation you may want to choose your accommodation based on other factors. Grand Hotel includes nice gardens, private rooms and a pool perfect for the romantic getaway. If you are taking the whole family, however, the range of activities offered at Hotel dos Mundos will be sure to please everyone. Have in mind ahead of time if you want to stay in style or if you want to live like one of the locals. Both options are available.
Photo by Michael Swigart on flickr