Introduction to Tonbridge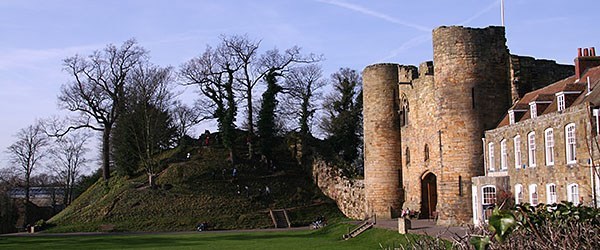 Located in England's southeastern county of Kent, Tonbridge is a historical town with plenty to offer visitors. Tonbridge experienced its first true growth back in the Middle Ages; the first castle, which was more of a basic fort, was constructed by Norman invaders around 1066.
The wood and earth castle was eventually upgraded to stone, and then modified yet again for use in the Second World War. The Tonbridge Castle is open daily to tourists and history aficionados. Some of the other sites in Tonbridge include several war memorials.
The Tonbridge Boer War Memorial is an obelisk dedicated to twenty-four townsmen who passed away in the Second Boer War. There is also a Memorial Garden, which is in remembrance of those who gave their lives in World War Two. The most modern of all the memorials is the prominently placed sculpture located on the High Street.
Open seasonally, the Hadlow Tower was just recently restored. It's suggested you purchase tickets in advance, but access to this beautiful structure allows you to climb 130 feet to the top for breathtaking views of the countryside. For those interested in exploring the natural surroundings, the Haysden Country Park is conveniently located on the outskirts of Tonbridge.
It features a lake and plenty of trails for walks or riding bicycles, making it a great option for a day out with family or friends.