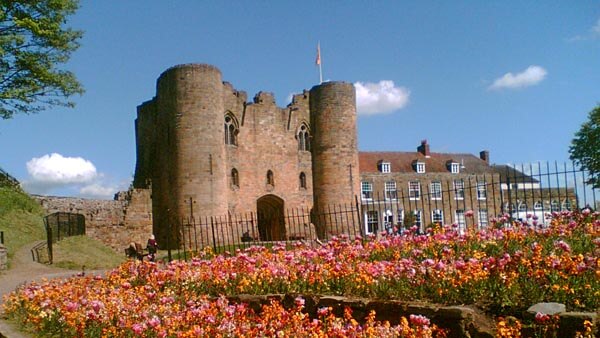 Because it is in southeast England between the city of London and the mainland of Europe, the county of Kent was a strategic location in a variety of conflicts in Britain. Tonbridge Castle is a typical motte, or raised earthwork, and bailey, or courtyard, castle. It is located in Tonbridge, Kent. The castle stands on high ground along the River Medway, which has a history of extensive flooding.
In the twelfth century a Norman lord who was instrumental in the Norman conquest of England, Richard Fitz Gilbert, was awarded a grant to build a castle in Tonbridge. Since that time, the town and castle were besieged many times, once resulting in the entire town being burned by the defending garrison. The town and castle were rebuilt, however, and by the Thirteenth Century the castle was home to Edward II, a Plantagenet king. Eventually the castle became the property of the Tudor king, Henry VIII, after he had the castle's owner executed for treason.
Visitors will find the surviving medieval gatehouse, with its twin towers, an important landmark. A mansion was added to it in 1793, which is now town offices, and the gatehouse was extensively renovated in 1999, which now allows for circular tours of it. Several rooms were added for the use of groups, educational activities and exhibitions. A one-hour audio tour allows visitors the exciting experience of pretending to be royalty living in the castle during the Middle Ages and of being in the middle of a siege as the gatehouse is being attacked by battering rams.
Advertisements:



Tonbridge Castle is the site of the Medieval Fair and Heritage Open Day in September and of other concerts and shows during the year. Corporate functions, educational and group visits, and civil marriage ceremonies are encouraged. The castle is surrounded by fourteen acres of grounds that is a public park. There is a Chamber Room available for seated events of up to eighty-five people. The gatehouse itself will hold twenty-five people and the Great Hall up to thirty guests, both standing room only.
Tonbridge Castle address and hours
Tonbridge Castle
Castle Street
Tonbridge
Kent TN9 1BG
Monday to Saturday 9am - 5pm and Sunday 10.30am - 4.30pm. The last tour is one hour prior to closing. Grounds are open daily from 8am to dusk. Free of charge.
Closed 24th - 26th December and 1st January.
Photo by SmartUK on flickr
You should follow me on twitter here.