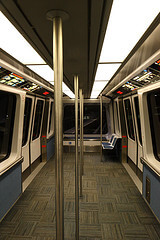 The Air Train from JFK airport to Jamaica Station is an above ground train that transports people from the Jamaica Center city subway station (Sutphin Blvd) to John F. Kennedy International Airport (JFK). The Air Train operates 24 hours a day, 7 days a week. On the Air Train, it takes about 15 minutes to get to Jamaica Center from JFK or vice-versa. A trip on the air train costs $5. There will be additional costs to ride the subway after getting out at Jamaica Station (a minimum of $2.25 for one ride). If you'd rather not take the subway, you can also take the Long Island Rail Road from the Jamaica Station to Penn Station, which is more comfortable for a few dollars more.
A ride on the Air Train is a pleasant one. The trains are always clean and comfortable. They are always air conditioned in summer and heated in the winter. They are also wheelchair accessible. With its above ground view and sleek silver design, it feels like transportation from the future or a train from Japan, instead of Queens.
Advertisements:



When people get on the Air Train at JFK airport, they can board and travel between any of the airport's nine terminals. This is very helpful for people who have a connecting flight at JFK that is on a different airline. The layout of the terminals is circular and the Air Train travels in both directions. After departing the airport's terminals, the Air Train will first stop at Federal Circle, where car rentals and hotel shuttles are available. It is also where the airport has cargo areas. The last stop is Jamaica Station, where passengers can get on the J/Z or E subway trains.
You should follow me on twitter here.