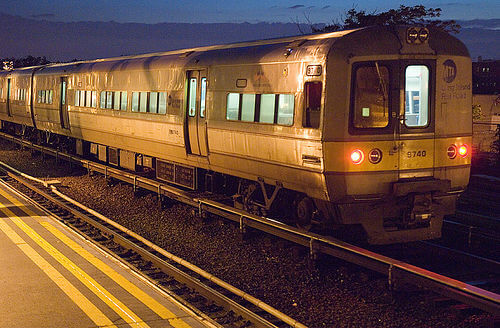 When traveling to and from New York City, there's an overwhelming amount of options, starting with the number of airports to choose from! Have you chosen the JFK Airport? JFK is in many ways the best option out of airports that serve the NYC area. A few terminals have undergone recent renovations, offering a shiny, new, clean airport atmosphere. This also has provided many new and extra restaurants, shops, and places to relax while waiting to board your flight.
JFK also has some of the cheapest options available for transportation to and from the airport. All of the local & native New Yorkers I know prefer to use JFK Airport above the others due to this fact. NYC is expensive, and I know that when I'm in town, I want to use every possible dollar I can towards the fun & excitement of the city... not towards a fancy limo service or towards waiting in a long line (possibly in the snow or rain!) for a taxi ride that ends in a fare that would've bought a pair of show tickets. JFK Airport is the stand-out choice for those who share this mindset of saving.
That said, 'saving' might be a keyword here. These options are not as 'baggage friendly' as a private limo is, of course. If you decide the options described below are the way to go for you, a friendly piece of advice – pack as lightly as possible. This will help you tremendously, make the traveling into the city smooth... and your back will thank you! If you happen to be a fitness guru that can handle heavy lifting with no problem (or are traveling with one!) you might be able to get away with heavier baggage. Still, remember 'less is more' for packing. You'll want all your energies focused on your vacation, not on the time spent going there!
Advertisements:



Once you have your bags packed and you are on your way, the JFK Airport will be ready to welcome you. The option of taking the Air Train and Long Island Rail Road (LIRR) might seem the most complicated at first. But airport & train employees are usually kind & helpful, and the signs to guide your way are very clear throughout the experience. Another bit of advice – don't be afraid to ask a fellow traveler that looks like they know the city. Contrary to stereotype, New Yorkers are almost always willing to help.
As you are finding your way through the airport after landing, you will want to be looking for the signage toward Air Train. This is the first step on your journey into the city. Once you arrive at Air Train, be ready to pay $5 to get to Jamaica Center. Go to the MetroCard machines, where you can buy a MetroCard to pay for this. You may want to fill up a pay-per-ride card an extra $20 or so, depending on your length of stay & how much mass transit you expect to use. This card will be one you can use, and refill if needed, on all of the cities subways and buses.
The Air Train itself has a very modern, sleek terminal, and the Air Train train is reminiscent of the monorail at Disney... so the ride itself might be a bit fun, especially for kids. They run very frequently and you will never have a long wait for one to come in and take you to your next destination, the Jamaica Center for the LIRR.
Once the Air Train arrives at the Jamaica Center, exit the Air Train and take in the Jamaica Center station. This ranks highly in the list of busiest transit stops within the NYC area, so it will give you your first taste of the hustle & bustle of NYC.
Once you're here, find the ticket stations for the LIRR. You will want a ticket to Penn Station in order to reach Manhattan. Tickets will range from about $8.50 to $3.50, depending on the peak hours/off-peak hours/weekend fares. Adding this together with the $5 for the Air Train, this is by far a better deal than all other options for transport from the airport. There is one slightly cheaper option of using the subway system directly from this stop – but by choosing the LIRR, you will experience a good deal more comfort in the ride. This will be a welcome bit of relaxation amongst all of the travel of the day. It has more room to stretch out, and it will also provide a much faster trip into the city... very worth the few extra bucks!
Follow announcements and instantly updating sign boards for what track the next train to Penn Station will be arriving on. The route you will take is part of The City Terminal Zone.
Trains run very frequently, so if you miss a train, no worries – but if in a rush, do be sure to pay close attention to announcements & the boards so as not to miss what track the next train will be on. The earlier you can board the train after the announcement, the more choices you will have in finding comfortable seats for you. (Some seats face opposite of the direction the train runs, if you are prone to motion sickness; seek out the seats facing forward to the line.)
Be sure to have your ticket ready for the conductor, sit back, and relax! Use the overhead spaces if you need to for your baggage. Penn Station will be the very last stop on this train and there will be no transfers, so feel free to let your mind relax and wander a bit. The seats on the LIRR are much more like train seats than subway or bus seats, and are truly quite comfortable.
Before you know it, you'll have arrived to Penn Station – right in the center of Midtown Manhattan at 34th Street! Now that you're here, you'll be welcomed to even more crowds and fascinating people watching. There's many, many restaurants and other diversions within Penn Station, so you may want to stop here to fuel up for the rest of your vacation, or to sit back and discuss the journey of the day gone by.
After enjoying the people watching and food at Penn Station, you may want to go right to it & walk around 34th St. and start exploring NYC. You'll even be in walking distance already to the Empire State Building! If you want to get straight to your hotel, you'll have a couple options. You can put that MetroCard to use and get on the subway to your hotel or other landing pad. This may be cumbersome – especially during rush hours – if you are carrying lots of baggage. All in all, it might be most practical to congratulate yourself on all the savings (of time & money!) of your journey so far, and go right to hailing a taxi to drive you off to your ultimate destination.
Most will fall in love with NYC and want to return many a time. Every time, the process of traveling to and from the airport becomes easier and second nature. Enjoy the rides, and with the help of the excellent transit system in place, you'll become a pro in no time!
Photo by Eugene on flickr
You should follow me on twitter here.