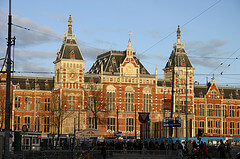 The Amsterdam Central Station is the starting point (and ending point) to any visit to the great city of Amsterdam. Located in the center of the city, it is a hub for travelers as it has over 1,500 trains departing and arriving from domestic and international locations. The station also has many buses and trams that depart from this location so going to the station allows one to access the entire city, as well. Although it is very busy and always bustling with people, the station is very clearly laid out for foreigners. It should also be noted that the people that work at the station are extremely helpful and knowledgeable about Amsterdam. They are very accommodating for tourists as most are multi-lingual and therefore are able and eager to communicate with nearly anyone that needs help. There are also many shops inside, as well as places to grab something to eat.
Surrounding the station, there are canals with boats and stone walkways lining the water. Directly outside the station is a massive bike rack that gives you a preview of the city and how people get around. It is an amazing site because it takes the place of a typical parking lot for cars and it instead full of bike tires. From the outside, the station is also a beautiful site. Its burnt orange color is stunning against the gray stone walkways. It is very tall and stands out amongst the other buildings due to its ornate carvings on the exterior. It was built in the late 1880s and has been preserved in excellent condition despite the many visitors each day. Since its construction, it has also been expanded in order to accommodate the increase in trains that stop at this station. It is a centerpiece of Amsterdam that is not only a great way to arrive and depart, it is also an exciting tourist attraction.
Amsterdam Central Station address
Centraal Station
Stationsplein 13
Amsterdam
Advertisements:



Photo by Ryan Somma on flickr
You should follow me on twitter here.