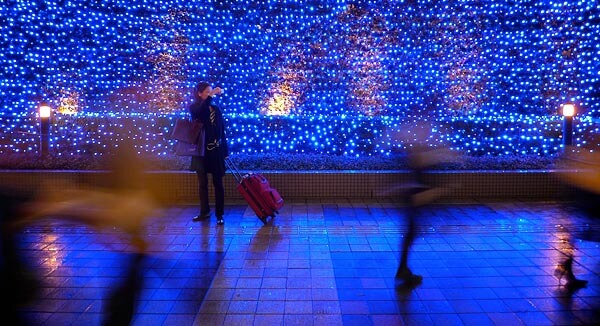 Shinjuku covers 7 square miles of North West Tokyo; a major commercial and business ward and home to Shinjuku Station, the busiest railway station in the entire world serving in excess of two million passengers each and every day. The area is also home to the world's largest collection of skyscrapers, not least the Tokyo Metropolitan Government Building, designed by respected architect Kenzo Tange and the offices of the Tokyo administration.
Shinjuku is not entirely commercial though and as can be expected from pretty much any area in Tokyo, there is a good mix of residential areas, recreational activities and sight-seeing opportunities. All these, with the exception of the residential areas, are presented in the flamboyant bright-lights style the world has grown to associate with the capital of Japan.
Advertisements:



There are several places of interest in Shinjuku; the Golden Gai, for example, is a bohemian style shanty area popular with musicians, artists and people of a creative disposition, Shinjuku Gvoen showcases the most beautiful blend of traditional Japanese, English landscaping and French Formal garden styles whilst the area of Kabukicho is home to the city's red-light district, Japan's largest district of its kind, renowned for its restaurants and bars amongst other activities.
Shinjuku continues to thrive and attract visitors from all over the world. Overall, Shinjuku is an interesting and lively place to visit and worthy of its excellent reputation.
Photo by pureandapplied on flickr
You should follow me on twitter here.