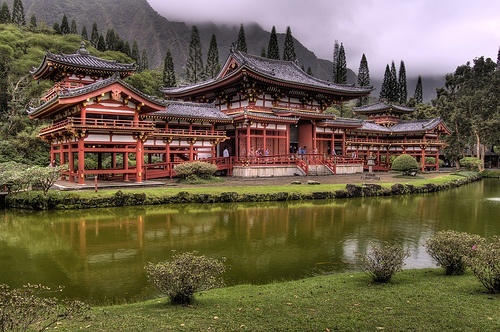 Hawaii is one of the most beautiful destinations in the world and for a peaceful and relaxing trip while you are in the country, a visit to the Byodo-In Temple makes for a great day out. This Buddhist temple is one of the most picturesque locations in the country, as it is situated at the foot of the beautiful Ko´olau Mountains in an area known as the Valley of the Temples Memorial Park.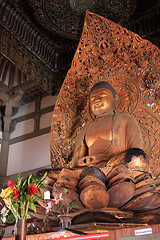 The temple is a modern replica of a 950 year old Japanese temple and was built in 1968 to commemorate the one hundredth anniversary of the first Japanese settling in Hawaii. Sitting and relaxing in the landscaped gardens which surround the temple are a must, as you can take in the beauty of the temple and the natural scenery which surrounds it. You might even see some of the local wildlife which includes wild peacocks and you definitely have to get some photos of the koi carp in the reflecting pond.
As well as being a beautiful location the temple has many attractions to offer. The Amida Buddha is located in the temple and is one of the largest carved Buddhas in the world at over 9 feet tall. It was finished with gold lacquer and gold leaf to give it a beautiful appearance and you will be amazed when you get up close to it. Other delights include the meditation pavilion where you can sit in quiet contemplation and the bell house where you can hear the ringing tones of the sacred bell. You can ring the bell before entering the temple and this is said to bring you happiness and a long life so is definitely worth doing.
If you visit Hawaii you should definitely take a trip to this hidden gem. You will have some great photos and some great memories to take home with you.
Advertisements:



Photos by photobunny and dotben on flickr
You should follow me on twitter here.