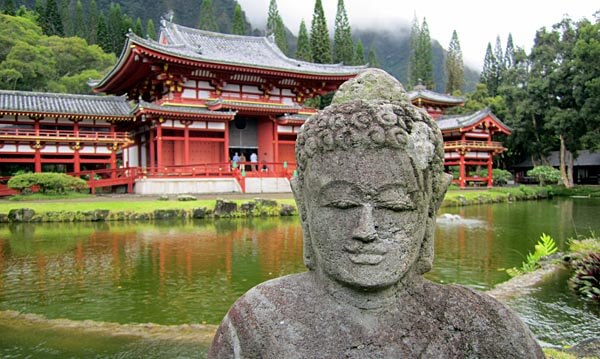 Talk about a breathtaking journey that is quite magical and mystical; a replica of a temple in Uji, Japan located in Kahaluu, O'ahu, Hawaii. It is located near the Ko'olau Mountains in the Valley of the Temples Memorial Park. The Byodo-In Temple is a Hawaii State Landmark and was included in several television shows including Magnum P.I. and Hawaii Five-O. This is just one of the secrets that the Valley of the Temples Memorial Park has to offer. What a beautiful place to worship, and is also used for meditation, weddings, workshops, classes, and has a funeral home and cemetery on grounds.
The Valley of the Temples Memorial Park, founded in 1963 also has on its grounds a hilltop Chapel of the Passion, a statue of Mary, mother of Jesus in the Roman Catholic Garden of the Holy Cross, and the Haka Garden. While going to a cemetery may not be on the top list of all tourists, though they do also do weddings, the beauty and the spirituality of this place is amazingly breathtaking and the property is engulfed by a natural amphitheater of surrounding mountains which overlook the vast ocean. The Inspiration Chapel offers a very spectacular view. The faiths involved in the cemetery gardens honor a vast mix of religions including Buddhism and Christianity. It is a lovely place of peace and tranquility where differences are set aside.
Visiting the Valley of the Temples Memorial Park is a pilgrimage you will not be disappointed in. Surrounded by lush valleys and rich nature along with all the beautiful and enigmatic religious icons and representations, it is sure to be a spiritual rather than just touristy journey. No matter what religion you are, even if you are an atheist, you are sure to find some rarely seen treasures on an off the main road destination, including a nine foot tall Buddha who holds a bell and it is said to bring luck and peace to anyone who rings it. This destination is well worth getting off the beaten path.
Valley of the Temples Memorial Park address
Advertisements:



Valley of the Temples Memorial Park
47-200 Kahekili Highway
Kaneohe, HI 96744
Photo by Wallyg on flickr
You should follow me on twitter here.