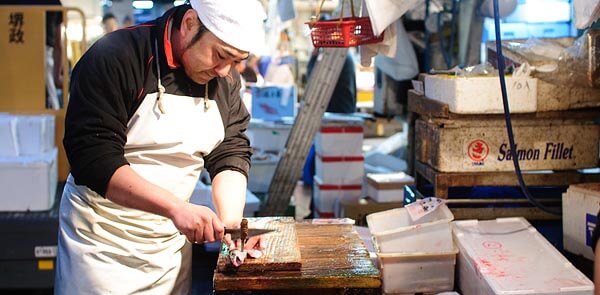 Tokyo is the home of The Tsukiji Fish Market which is the largest wholesale fish and seafood market in the world and it is also the largest wholesale food market of any kind. The market is located in Tsukiji in Central Tokyo and has become a major visitor attraction.
Advertisements:



The market is divided into sections. The "inner market" is the wholesale market section where the auctions and most of the fish processing takes place. It also is the area where licensed wholesale dealers operate their small stalls, which there are about 900 stalls.
The market is open daily except Sundays and holidays at 3 am . This is the time the truck arrives with the day's supply of fresh seafood from all over the world. The unloading of tons of frozen tuna is especially impressive to see. The fish is prepared for the auctions that start around 5:30AM. Only licensed wholesalers and buyers who are agents for food processing companies, restaurants and large retailers are allowed to bid. Visitors to the tuna auction are limited to140 people a day.
Visitors are encouraged to visit Tsukiji's outer market which caters to the public with small retail shops and restaurants. You can even have fresh sushi for breakfast if you like. You can buy Japanese kitchen tools, fruits, vegetable and restaurant supplies.
There are several strict rules to follow so as not to interfere with the serious busy dealings going on. The rules include the banning of high heel shoes and sandals, no small children or pets, no large bags to be brought in, and also no smoking.
Tsukiji Fish Market address and hours
The market is located near the Tsukijishijō Station on the Toei Ōedo Line and Tsukiji Station on the Tokyo Metro Hibiya Line.
The market is open daily except Sundays and holidays at 3 am. The outer market closes early afternoon, and the inner market earlier than that.
Photo by Fran Simó on flickr
You should follow me on twitter here.