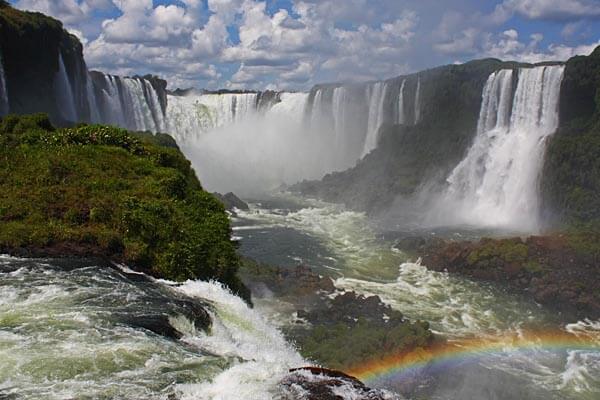 Perhaps in very few places on earth will the full majesty of nature's power and beauty be presented to your eyes in such an awesome and spectacular fashion as it is in the Iguazu Falls in South America.
You can get to the Iguazu Falls from either Brazil or Argentina as both countries share the falls in their respective 'U.N. World Heritage Site' designated National Parks. However the choice is made easier when you know what it is that you are looking for in the experience.
If you are looking to get close enough to get drenched by the spray of water, the Argentina route is preferable. You take the bus from the Foz do Iguacu Airport which takes you directly to the Falls. From here you can feel the force of the falls and hear the deafening roar of the water as it makes its journey to the bottom. You will get sopping wet within a few minutes and won't be dry till you get to your hotel and change.
However, if it is the full panoramic view of the falls that you are looking for then the best thing to do is approach it from the park on the Brazilian side. If you can you should try to get both sides of the view into your itinerary as this is one of the most powerful displays of nature at work.
Advertisements:



Photo by alabos flickr on flickr
You should follow me on twitter here.