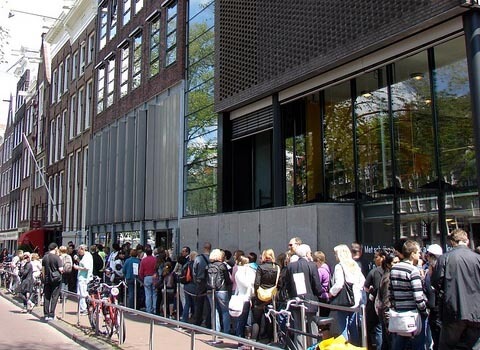 Anne Frank was a young Jewish girl who spent two years of her life in hiding from the Nazi's during the Second World War. She kept a diary throughout this time, and it has become a best selling novel as an insight into the Holocast. She died at age 15 at the hands of the Nazis in Auschwitz, after being discovered in the house in August 1944.
Advertisements:



The house where Anne Frank hid in is in the centre of Amsterdam, in the Netherlands. The house still stands and is open to the public.
While in the museum, visitors can see the annex "hidden behind a bookcase" where Anne Frank, her family and four others - eight in total - spent all their time while in hiding. They were never allowed to leave this enclosed area for fear of being caught. Seeing and experiencing this small space is a harrowing experience, and highlights the horrors of anti-Semitism and the fear that Jews lived in during the period around the Second World War.
Being a residential house, the museum is small, and visitors need only about an hour for their visit. The museum also includes special exhibitions, a bookshop, and a café. The bookshop is not to be missed. Here visitors can buy the famous diary, "The Diary of a Young Girl"
Anne Frank's House address and hours
Anne Frank Huis
Prinsengracht 263-267
Amsterdam
March 15 through September 14
Daily from 9:00 am - 9:00 pm, (Saturdays from 9:00 am - 10:00 pm).
In July and August the museum is daily open till 10:00 pm.
September 15 through March 14
Daily from 9:00 am - 7:00 pm (Saturdays from 9:00 am - 9:00 pm).
Photo by lmgadelha on flickr
You should follow me on twitter here.