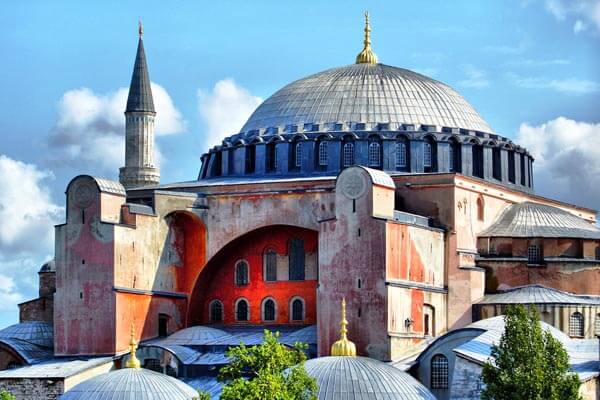 Istanbul, Turkey is an interesting and colorful place to vacation. While there one of the not to be missed sights is the Hagia Sophia (or Ayasofya in Turkish) which is a former Orthodox patriarchal basilica from 360 A.D. to 1453 A. D., but was rebuilt in 537 A.D., then it was a mosque from 1453 until 1931 and now it is a museum which opened in 1935.
Be sure to take note of the massive dome which is one of the greatest surviving examples of Byzantine architecture. When walking through the vast interior take note of the beautiful mosaics and marble coverings and pillars. The temple is richly and artistically decorated. Look up from the nave and see the dome 182 feet about you with its 40 arched windows. The weight of the dome is supported by four massive piers at its corners. Think about the feat it was to build such a large structure in the year 360 without all the modern cranes and heavy equipment. Note also the two huge marble lustration urns (used for ritual purification rites) that were carved from a single block of marble.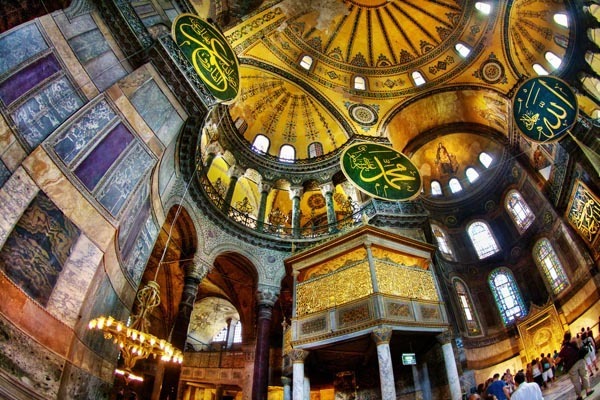 Next go to the upper gallery whish is in the shape of a horseshoe and see the mosaics there. There are many but to name a few, there is the Christ Child sitting on his mother's lap, the Virgin Mother and Child, and St John Chrysostom. You will also find marble doors inside the Hagia Sophia in the upper gallery. This area was used by the people who participated in the synods held in the meeting chamber behind these doors.
After returning home you will remember the Hagia Sophia for the rest of your life and marvel at the construction and how it was exceptional in it's time.
Hagia Sophia location and hours
Advertisements:



Hagia Sophia
Aya Sofya Sq.
Sultanahmet
Istanbul
Turkey
Photo by David Spender (1) and Daniel Peckham (2) on flickr
You should follow me on twitter here.