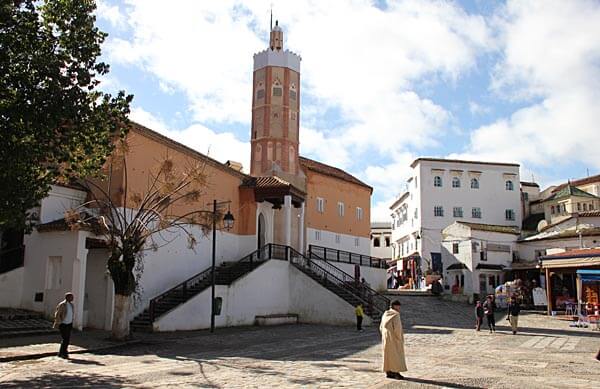 When in Chefchaouen, the 'Blue City' located in the Moroccan mountains, tourists visit the Grand Mosque, the focus point of sightseeing tours. This place of worship sits at the heart of the central square, Outa el Hammam. You will witness the calling to prayer by the Muslin priests from the atypical octagonal minaret.
The fabulous, exotic urban scape attracts large crowds, and you should definitely have a camera to catch the unbelievable local flavor. Here you can also shop for lovely hand-made souvenirs of Berber heritage, such as wood and metal jewelry, rugs, blankets, or even warm, wool gowns. Keep in mind that, during to the high altitude, the weather is quite chilly especially at night, so don't forget to take along some warm clothing and comfortable shoes, because most of the city center can be visited only by foot.
Advertisements:



Remember you can only visit the Grand Mosque on the outside, if you are a non-Muslim. You can ramble at ease and marvel at the surrounding buildings and narrow street, accessible only by foot. Near the Mosque you will find several cafes and restaurants in which to unwind and enjoy the quiet rhythm of life. The locals are quite friendly, the tight maze of blue and white buildings is like a fairy-tale, the scenery seems cut from 'Thousand-and-One Nights'.
Of course, in Morocco like any Muslim country, there are some restrictions and tourists are advised to wear decent clothing, without bare shoulders especially in the vicinity of the Mosque. You will see the locals knee down five times a day at the hours of prayer, because this religious ritual is very important in their culture.
Chefchaouen Grand Mosque location
Grand Mosque
Outa el Hammam
Chefchaouen
Photo by AnnieGreenSprings on flickr
You should follow me on twitter here.