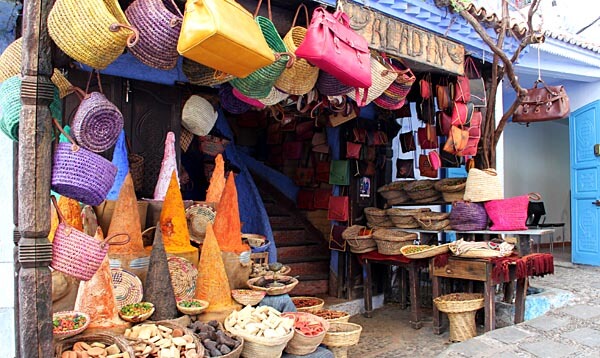 If you are planning for a calm and relaxed vacation, this is definitely the place for you. Outa el-Hammam, the main square, is the center of all activities in Chefchaouen. The city, with its blue and white washed buildings, set against the backdrop of the beautiful Rif Mountain offers a good scenic view to the visitors. It is also one of the safest places in Morocco. The major attractions here are the Kasbah and the Grand Mosque. Abdu I-Karim, a local chief, who was a legend for the people of Northern Morocco, was imprisoned at the Kasbah by the Spanish in 1926. Now it houses a museum and an art gallery. The Grand Mosque, built in the 15th century by the son of the founder of the town, Ali Ben Rachid, has an unusual octagonal minaret.
There are many cafes and restaurants in Chefchaouen which offers authentic Moroccan delicacies. The popular mint tea is very refreshing during a hot day. Every where in the town you can see elderly people in their traditional dress, Jellaba, and the local men playing cards and smoking kif (a form of hashish). Hashish is readily available here in Chefchaouen as marijuana is widely grown on the Rif Mountains. Do not hesitate to say no to the men who approach you with hashish as it is illegal and punishable.
Advertisements:



There are various activities like trekking, hiking etc. that you can indulge in on the Rif Mountain. But be cautious not to venture into the marijuana grown areas. Keep yourselves fit as it might not be too easy to take a stroll along the steep blue and white alleyways. You can shop here for Moroccan handicrafts, jewelry boxes, henna, ceramics, blankets, rugs and carpets which are reasonably priced. If looking forward for a quiet holiday, avoid the Spanish national holidays as it is crowded during that time. Summer months (July-September) can also be avoided as it is very hot and tiring.
Photo by AnnieGreenSprings on flickr
You should follow me on twitter here.