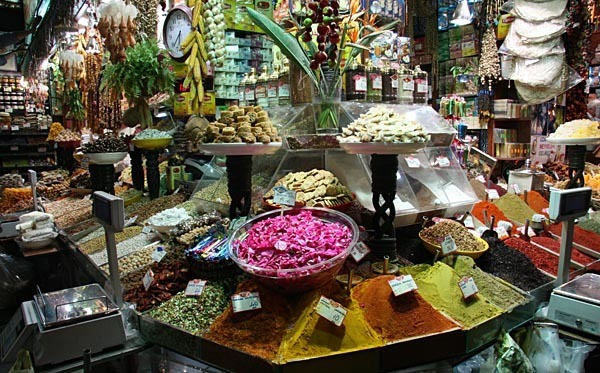 The name Istanbul has always been synonymous with adventure, romance, and everything exotic. It was truly the crossroads of the world, where every product, fabric, food, and spice was brought, traded, and sold. The Spice Market, or The Egyptian Bazaar as it is called, is still there, and still as exciting as ever. This market is located in the Eminonu neighborhood behind the Yeni Mosque. It was designed in the 17th century by architect Kazim Aga.
Advertisements:



As the name implies, this particular bazaar specializes in spices, herbs, and medicinal plants. Today, vendors in its 86 shops also sell teas, nuts, fruits, oils, and various sweets. Certainly one of the most aromatic of the bazaars in the city, it is flanked by a food bazaar and a plant market. The market is open daily except for religious or public holidays.
Visitors to the Spice Market will also be interested in the other markets in the area, such as the Grand Bazaar, which contains a wide variety of goods, and the Sahaflar Carsisi, a bazaar specializing in books. Of course, there are also a number of other smaller bazaars with their own specialized products and produce. Visiting the markets of Istanbul is truly a once in a lifetime experience, and will be remembered forever for its sights, sounds, and the wonderful smells of the spices that made this trade route famous.
Photo by whitecat sg on flickr
You should follow me on twitter here.