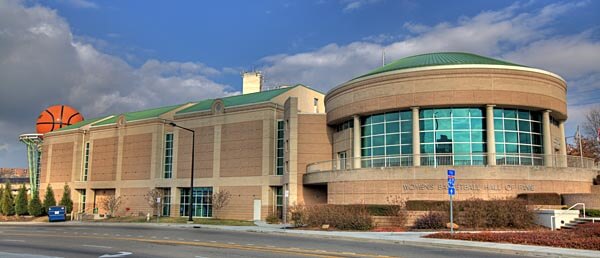 Knoxville, Tennessee is the third largest city in the state and is the county seat. In 1999 it became the home of the Women's Basketball Hall of Fame. The hall of fame is the only facility that is dedicated to all levels of women's basketball and a very interesting place to visit. The Hall is a bright fun filled facility with interactive exhibits and ball courts. It is run by the Knoxville Tourism and Sports Corporation as a nonprofit organization.
Advertisements:



The building itself is 32,000 square feet that is encompassed by two amazing basketballs. At the north end of the Hall there is the world's largest basketball weighing 10 ton and it is on top of a glass staircase that resembles a basketball net. The courtyard is brick and shaped like a basketball at the south end of the facility. Some of the bricks are engraved with the names of honored guests, inductees, and others who leave their legacy at the Hall of Fame.
When you enter the facility you will be greeted by a 17 foot bronze sculpture that exemplifies the Hall's mission to "honor the past, celebrate the present and promote the future of women's basketball."
You can see multimedia presentations and basketball artifacts such as medals trophies and uniforms from the past to the present. There are interactive ball courts, and modern locker room exhibits where you can catch a halftime chat. There is also the All America Red Heads limousine exhibit as well as an exhibit celebrate Pat Summitt's 1,000th victory. Yes, the Hall of Fame has something for everyone.
You can even rent it for a special occasion such a prom, wedding or birthday party.
Visit the Women's Basketball Hall of Fame and learn a lot while having fun. Hotels and restaurants are plentiful in the are for some rest after a day in the Hall
Women's Basketball Hall of Fame address and hours
Women's Basketball Hall of Fame
700 Hall of Fame Drive
Knoxville, TN 37915
Monday through Saturday 10 am to 5 pm. Closed Sundays. Mondays are closed during winter.
Photo by Frank Kehren on flickr
You should follow me on twitter here.