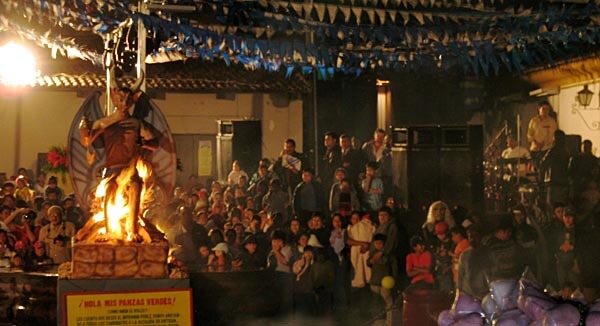 December 7 marks the beginning of the Quema del Diablo (burning of the devil) festival in Guatemala. For days residents have been ridding their homes of unwanted items and rubbish that have been gathered over the year for burning. Heaps of garbage line the streets waiting to be ignited. The energy is almost tangible with children running around with firecrackers and street vendors selling their traditional tacos, tamale,s and pupusas. Giant diablos or devils are also being constructed to reinforce the theme of this unusual festival.
The burning of the devil festival signifies a spiritual cleansing by getting rid of all negative energies from the past and starting afresh. This ritual coincides with the festival of Immaculate Conception which refers to the Virgin Mary and is an informal start to the impending Christmas season.
The capital of Guatemala City and Antigua will be the main focus for the festival but it is celebrated all across the country. Tours to other indigenous villages, volcanoes and lakes can easily be arranged. Every Thursday and Sunday vendors from around the country come to sell their authentic hand made textile items such as womens' blouses made by the Mayan locals at the Chichicastenango market.
The tropical climate and luscious forests coupled with their legendary black beaches on the Pacific coast makes Guatemala an interesting destination for the adventurous traveler. Even more so with their strong connections with the rich culture of the ancient Mayans. Popular landmarks include the Ceibal, Aguateca and the Tikal ruins which has over 4,000 historical Mayan structures. Lake Atitlan which boasts the deepest lake in central America and the Agua, Fuego and Acatenango volcanoes are also a must see.
Advertisements:



Photo by Rudy A. Girón on flickr
You should follow me on twitter here.