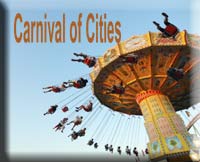 Welcome to this edition of the Carnival of Cities, it's the first for eyeflare.com. If it's your first time here, have a look around, subscribe to our RSS feed, and leave some comments!
If you'd like to host the Carnival of Cities on 23 April, 30 April or 7 May, please email Sheila "at" sheilascarborough "dot" com. Sheila hasn't got a host for next week yet, so it's a great chance for your blog to get some exposure.
Cities in North America
Baton Rouge, Louisiana, USA. Shannon Hurst Lane covers the cheap travel aspects of this southern city in Budget Friendly Baton Rouge posted at Traveling Mamas. With her tips, you can turn a trip to Baton Rouge into a fun family trip.
Advertisements:



Las Vegas, Nevada, USA. Gray presents One for Vegas posted at SoloFriendly.com. She shares a lot of really great tips for dining out, travel safety, and staying healthy on a fun trip to Vegas.
Katy, Texas, USA. A visit to Katy, Texas and the Forbidden Gardens. Definitely fun for the family! Paige Jackson presents When Emperors Ruled: The Forbidden Gardens In Katy, Texas posted at UpTake Blog.
New York City, New York, USA. Sarah reviews to great restaurants in BBQ Club loves Dinosaur BBQ + Hill Country 4ever posted at SARAHSPY. My mouth is watering as I'm reading.
Toledo, Ohio, USA. Local pundit Leslie Carbone presents Toledo Bureaucrats All Wet posted at Leslie Carbone.
Valle Crucis, North Carolina, USA. Sheila Scarborough visits The Mast General Store posted at Perceptive Travel Blog. The Mast is an old-timey general store just off of the Blue Ridge Parkway in Valle Crucis, North Carolina.
Orlando, Florida. There are some great ways to save money in Orlando, Florida. From theme park tickets to transportation around the city...all it takes is a little research! Karyn presents Save Money in Orlando posted at All About Orlando.
Cities in Europe
Benidorm, Spain. Robert Carlton visited the Terra Mitica amusement park in Benidorm and explored the new rides. The "Inferno" ride is lots of fun , but you should not have eaten before. The second new attraction is a wonderful sky high viewing platform called "Infinito", which allows you an outstanding view down to the bay of Benidorm. He presents New Prices at Terra Mitica Park Benidorm posted at Alicante Spain .
Prague, Chzeck Republic. Ivanisko presents A Report from Prague posted at Bookstore Guide. This is a report from a recent trip to the Czech capital Prague. Ivanisko visited all the local independent bookstores selling books in English.
Lausanne, Switzerland. Linda writes about her experiences and shares some photos in Interrail 2005 : Lausanne at Mes crazy expériences.
Brest, Belarus. Alex M presents Who Else Wants to Visit Brest? posted at Discover Eastern Europe: Russia, Ukraine, Belarus. There is hardly any person in Belarus and in the neighboring countries of Russia and Ukraine who has not heard about the famous Brest fortress. It is one of the most popular places of interest in the republic and is famous for the events that took place during the years of the Great Patriotic War.
Cities in Asia and the Middle East
Cochin, India. Sidhusaaheb shares his trip and day in Cochin in Southwards bound: At Cochin posted at I, Me, Myself.
Dubai City, Dubai, United Arab Emirate. Wendy presents Burj Dubai World's Tallest Building over at Escape From New York. The design of Burj Dubai is so modern it makes Tokyo's Shinjuku look retro.
Take part in next week's Carnival of Cities
Submit your blog article to the next edition of carnival of cities using our carnival submission form. Past posts and future hosts can be found on our blog carnival index page.
You should follow me on twitter here.