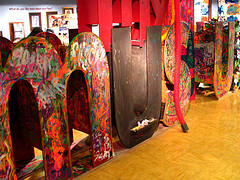 The Chicago kid's museum, located at Navy Pier, is a great place for kids to learn and have fun at the same time! Whether that is building bricks, solving puzzles or playing games Chicago Children's Museum is sure to stimulate their brains and widen their knowledge on such areas as Science, Maths, Geography and other subjects of Academia. The museum is designed to inspire the youngsters to take an interest in the world around them and pursue a search for knowledge.
Prices for entry are $10 for an adult and a child over 1 year old, it is well worth the money, and you will see the benefits your child will get from such an experience. A must visit for anyone visiting Navy Pier with a child.
Address and hours
Advertisements:



700 East Grand Avenue at Navy Pier
Chicago, IL 60611
Open 10am to 5pm, which late opening on Thursdays to 8pm.
You should follow me on twitter here.