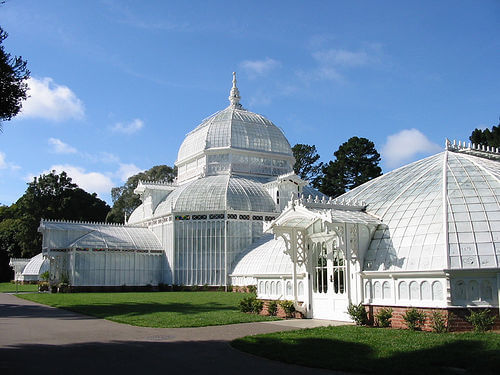 A San Francisco attraction for over a century, the Conservatory of Flowers has seen many ups and downs throughout its history. Originally built in 1878, it has survived fires, boiler explosions and economic crises that threatened to end its existence.
Today it is the largest wood and glass structure in North America. The conservatory's mission is still the same, "to cultivate, conserve, interpret and exhibit a tropical collection of flowers and plants that will educate people about these specimens and their importance to our planet." The conservatory is part of the Golden Gate Park system and is the oldest attraction within the park.
Whether you are a plant lover or not, the conservatory is a must visit site. The grand building, elegant grounds and collectables from around the world are worth the trip alone. That said, it is the conservatory's collection of plants will astound you. Everything from delicate tropical flowers to hardy trees are carefully maintained to insure both their survival and their beauty. The conservatory has five major exhibit areas, the aquatic plants exhibit includes streams and waterfalls that add to the ambiance.
Be prepared for a drop in temperature as you enter the highland tropical plant exhibit, one of only four in the United States, it is filled with delicate orchids and ferns. The lowland tropics exhibit takes you into a jungle environment with plants filled with fruit and flowers. The other two exhibits are ever changing. The potted plant displays are filled with plants appropriate to the season. Don't overlook the artwork of the planters themselves, as they represent the best from around the world. The last gallery is made up of special collections the highlight an area or type of plant. The conservatory rotates these exhibits so each trip is unique.
Conservatory of Flowers address and hours
Conservatory of Flowers, Golden Gate Park
100 John F. Kennedy Drive
San Francisco, CA, 94118
Advertisements:



Admission is $7 for adults, with discounts for children, students, and senior citizens. Free entrance on the first Tuesday of each month.
Tuesday - Sunday: 10 a.m.-4:30 p.m. (Last entry is at 4:00 p.m).
Monday: Closed, except Memorial Day and Labor Day.
Please note that on Sundays and all major holidays, Golden Gate Park closes many of its roads to all vehicle traffic.
Photo credit: Jeff Tabaco on flickr
You should follow me on twitter here.