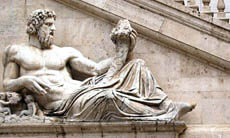 The major travel consolidators are quite thin when it comes to well priced and central hotels for Rome, Italy. RomaClick is a good local alternative.
The RomaClick site
RomaClick is a small booking site (find them at https://www.romaclick.com/) owned by a Mauro and Paola, who live in Rome and can make good connections and check out any Rome accommodation for themselves before they add it to the site.
The hotels in Rome
Advertisements:



The majority of the hotels on the site are located smack dab in the center of Rome. Better, they're very reasonably priced - even the 'favorites' listed on the home page start from just 70 Euros (about $120), which is good for central Rome. Checking Expedia or Travelocity pulls up places in the suburbs for the same money, or much more for other rooms next door in the city center.
Or rent an apartment in Rome
RomaClick also lists a number of Rome apartments, and these are good choices if you're staying a few nights, especially if you're going with family or a group of friends. Small apartments range from 60 Euros a night to more spacious places with room for 6+ people at more than 200 Euros.
Still, it's cheaper per person and night in most cases, and you get to cook your own food in your own kitchen from fresh Italian ingredients. I'm a fan of apartment rentals, and they're really good for chilling out and exploring a city or just the view from a balcony.
Well, if you're headed for Rome, now you have another alternative for finding a place to rest your head at night.
You should follow me on twitter here.