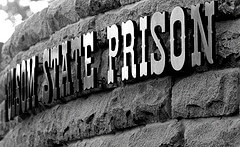 Folsom Prison Museum in California is famous because of the the singer Johnny Cash. If you have ever heard the album, "At Folsom Prison", you'll know about the prison were Johnny made his number 1 album. The museum has a lot of info about Johnny Cash and is a fun day for the whole family.
If you wonder what happens to the $2 you pay to enter, well, it gets donated to cancer research. What a way to help a good cause while having fun.
Advertisements:



The museum has a lot of history. The history includes, 90 men who were hanged there and the 1937 prison riot. Folsom prison museum has a wide variety of artifacts and displays, including but not limited to all the tools that the officers used to fend off the prisoners.
Address & hours
Folsom Prison Museum
312 3rd Street
Represa, CA 95671
Phone: +1 (916) 985-2561, Ext. 4589
Open daily 10am to 4pm.
You should follow me on twitter here.