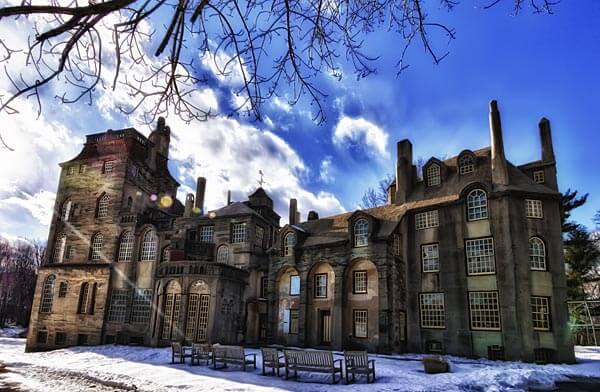 Fonthill in Doylestown, Pennsylvania built between 1908 and 1912 is the castle home of archeologist, scholar and ceramist, Henry Chapman Mercer. This castle made of hand mixed concrete has 44 rooms, 10 bathrooms, 18 fireplaces, 21 chimneys and about 32 sets of stairs. There are more than 200 windows of different sizes and shapes. Thousands of original and strange decorative tiles which adorn the walls, floors and ceilings of the castle are handmade and were designed by Mercer himself. A spiral staircase to one of its towers is also one of its highlights.
This castle home houses about 14,000 artifacts including the cuneiform tablets from Mesopotamia which dates back to 2300 BC, vivid works of arts and crafts as well as ceramic decorative tiles from different parts of the world, which Mercer acquired in his travel. Fonthill showcases hundreds of 19th century European and American prints and drawings. Visitors can see a large sample of these prints on a regular house tour. Carpets, draperies, bed linens, and clothing are kept as short term special exhibits and cannot be viewed on a regular house tour.
Souvenirs can be bought at the Fonthill gift shop. If you have fallen in love with this world of decorative tiles, do visit the Moravian Pottery and Tile Works which is located in the same premise. Here tiles are recreated the same way Mercer had created his tiles.
Various interactive activities are arranged at Fonthill to enchant and educate those visiting this place. Camps and workshops are also arranged for different age groups. If you're visiting Fonthill, do see the next door Mercer Museum as well.
Fonthill Castle address and hours
Fonthill Castle
East Court Street & Route 313
Doylestown, PA 18901
Advertisements:



Monday-Saturday 10 am to 5 pm
Sunday noon to 5 pm 
Guided tours only;  Last tour at 4 pm
Photo by James Loesch on flickr
You should follow me on twitter here.