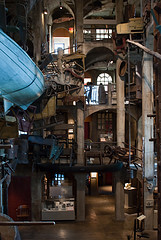 Welcome yourself to the idiosyncratic mysterious world of archaeologist Henry Chapman Mercer in your visit to the Mercer Museum - a poured-in-place castle and museum designed by the man himself. In lovely Doylestown in the outskirts of Philadelphia, the Mercer Museum is an easily accessible day trip for those visiting the City of Brotherly Love.
Driven by the insatiable, obsessive vision of Mr. Mercer, the Museum houses an impressive collection of over 30,000 material objects dated before the Industrial Revolution in America. The collection includes everything from pottery, to printing blocks, to horse-drawn carriages and whaling boats - all cataloged in a system of Mercer's own creation. Accompanying the museum is Mercer's own home - the Fonthill Castle, the concrete castle and ostentatious digs of the man himself. The home features Mercer's own renowned Moravian ceramic collection from the then contemporary Arts and Crafts Movement - now highly coveted pieces.
Mercer Museum address and hours
Advertisements:



Mercer Museum
84 South Pine Street
Doylestown, PA 18901
Open: Monday-Saturday 10 am - 5 pm, Sunday noon - 5 pm
Photo by hey tiffany! on flickr
You should follow me on twitter here.