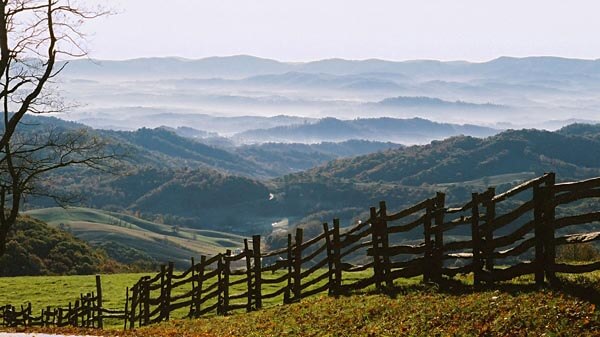 We have all heard the saying that "Virginia is for lovers" well this would be a wonderful spot to take that special person or spend your honeymoon. Grayson Highland State Park is located with in the Jefferson National Forest in the state of Virginia. It was developed in 1965 and has over 4,822 acres. The park is located about 360 miles south west of Norfolk and about 150 miles from Charlotte NC on the Virginia –North Carolina border. Two of Virginia's highest mountain call Grayson Highland home…Mount Rodgers and Whitetop Mountain. There are many trails leading to waterfalls and scenic overlooks to enjoy the mountain peaks.
No matter what outdoor actives you enjoy doing you can do them at Grayson Highland. The activities you might include on your visit are fishing, boating, hiking and camping, with your tent or camper or in the bunk house. There is a 2.8-mile portion of the Appalachian Trail going thru the park where you can do mountain biking, horseback riding and backpacking. There is a visitor center available also. The admission to the park is free.
Grayson is also a wonderful place to get reconnected with the wild life including wild ponies but keep your distance from the animals since this is not a zoo.
The park has a musical background for the music lover in you. Each fall they have the Grayson Highland Fall Festival with local folk musicians and weekly jam sessions. It also hosts the Wayne C Henderson Festival and Guitar Competition which is an import regional festival honoring the local guitar maker Wayne Henderson.
Make sure you bring your camera and make your campsite or bunk house reservation in advance and enjoy the great outdoors.
Grayson Highlands State Park location and hours
Advertisements:



Grayson Highlands State Park is on U.S. 58 midway between Independence and Damascus and is reached from I-81 at Exit 45 in Marion; turn south on Route 16 and travel 33 miles to US 58 in the community of Volney. Turn right onto US 58. Travel eight miles to the park's entrance. Latitude, 36.628322. Longitude, -81.496889.
From I-77, take Hillsville Exit 14 to U.S. 58. Travel west on U.S. 58, 40 miles to Volney. Turn left to stay on U.S. 58 and go eight miles to the park entrance.
There are 96 camp sites in the park, and it is open year round.
Photo by pcopros on flickr
You should follow me on twitter here.