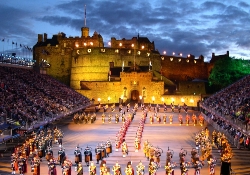 Organic porridge, iPod tours and a carbon neutral hostel are just a few of the eco-friendly highlights uncovered in the first ever green travel guide to Edinburgh.
The guide, published on the green travel and music site Jamble Magazine, is the latest in a series of city guides that focus on eco-friendly attractions, accommodation and restaurants in some of the most popular backpacker cities across the globe.
Ian Everett, editor of Jamble Magazine, said " Edinburgh is aiming to be Europe's most sustainable city by 2015, and as tourism is such a huge industry in Scotland we were surprised to find that there's very little information out there on how visitors to the city can reduce their environmental impact; so that's why we created this travel guide.
Advertisements:



Travelling green isn't always about staying in yurts and tipis, and these guides prove that city breaks can be eco-friendly too."
Some of the curious attractions featured in the Edinburgh guide include downloadable audio walking tours from Visit Scotland, solar powered otter enclosures at Edinburgh Zoo, and the organic Stoats Porridge Bars, which sets up shop at the Edinburgh Farmers' Market every Saturday.
Green initiatives at some of Edinburgh 's most popular hostels are also featured in the guide. The carbon-neutral High Street Hostel, for instance, sources its electricity from solar and wind farms, and offsets any remaining emissions by planting trees in its own 75 hectare forest.
You should follow me on twitter here.