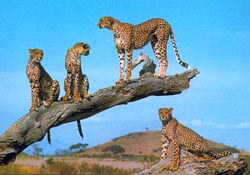 Clearly, 100 different global sustainable tourism certification schemes is too much for the beleaguered consumer. In an effort to make the situation more simple and the consumers choice easier, some top heavyweights in sustainable tourism have joined together in the Sustainable Tourism Criteria Initiative.
The list of organizations backing the initiative includes: UNEP, UN-WTO, CBD (Convention on Biological Diversity), IUCN, ICMOS (International Council on Monuments and Sites, Rainforest Alliance, CAST (Caribbean Alliance for Sustainable Tourism), Conservation International, Sabre Holdings, The International Ecotourism Society, IHRA, Federation of Tour Operators, Conde Nast Traveler, Ecotourism Kenya, Choice Hotels International, Hyatt, Instiduto de Hospitalidade, EcoTrans, VISIT, Expedia, and Tourism Concern.
The message is: "The Sustainable Tourism Criteria Initiative has been designed as a way to bring together - for the first time - a globally relevant set of sustainability criteria for the hotel and tour operator sectors. Through this common understanding of what sustainable tourism really means, the travel industry, media, governments, and consumers will be better positioned to differentiate, recognize, and support sustainable tourism."
Advertisements:



Around the world there are hundreds of certification systems and best practices that define sustainable tourism. Consumer interest is growing. Travel industry leaders are coming to the forefront. And governments are paving the way.
What does sustainable tourism really mean? How can it be measured and credibly demonstrated to build consumer confidence, promote efficiency, and fight greenwashing?
Whether you represent the travel industry or other stakeholders in sustainable tourism, your involvement is critical to ensure that the criteria are usable and relevant to the industry, that they address industry needs and customer interests, and forge a path towards greater sustainability.
The initiative aims to publish criteria by October 2008.
Your input on this initiative is requested: sustainabletourismcriteria.org
You should follow me on twitter here.