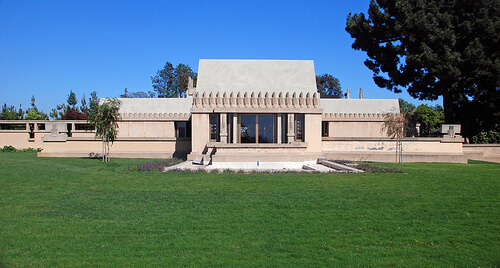 When philanthropist Aline Barnsdall envisioned an eclectic art community anchored by an amazing mansion in 1900's Los Angeles she knew famed architect Frank Lloyd Wright was the only one who could do her dream justice. And judging by the finished project, Hollyhock House has fulfilled all her expectations. It is a perfect example of what Wright called California Style Romanzo.
Set on a hill high over the city, the house provides a breathtaking 360 degree panaromic view. Aline Barnsdall favorite flowers was hollyhock, a delicate biennial that blooms in blushing pink and yellow. That is why the flower is the central motif and is intricately woven in all areas of the house. Designed of modular concrete blocks the rooms are airy with wide open spaces and enormous Roman columns. There are also a series of tunnel like entrances.
The building is a delicate stone wash, the color chosen to help blend in and be harmonious with the natural surroundings. The furniture is period and carefully preserved. There is an enormous grand fireplace, art deco windows and large size cabinets. An especially nice design is water flowing from a pool in the courtyard through a series of underground tunnels. The exterior is carefully landscaped with harmonious flowers and herbs which provides a soothing and calming effect.
Advertisements:



Hollyhock is located in Barnsdall Art Park, which also houses the Los Angeles Municipal Art Gallery, amidst trendy boutiques and galleries. It also houses a children's section and a gift shop. The hours are limited and it is reasonably priced at $7 for adults and $2 for children under 17. If you're driving, the address is 4800 Hollywood Boulevard, Los Angeles, CA 90027.
So if you are ever in Los Angeles and want to experience architecture at its finest then make plans to visit Hollyhock House, chances are you will be delighted with the experience.
Photo by Snap Man on flickr
You should follow me on twitter here.