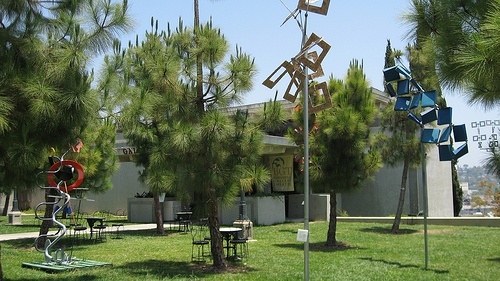 Early in the twentieth century Aline Barnsdall came to California with the ambitious dream of exposing the masses to culture and the arts. That dream became a reality with the inception of The Barnsdall Art Park. Located on a hill it offers a breathtaking view of Los Angeles and most fittingly the legendary Hollywood sign, the metaphor of aspiring dreamers.
This free park is housed in the Los Angeles Municipal Art Gallery that also includes The Junior Arts Center, Barnsdall Gallery Theatre and Hollyhock House. Activities includes Shakesperean plays, exhibitions of new and established artists, art exhibits, concerts and dance recitals. In addition there are numerous workshops, specialty classes, scholarships and symposiums.
Advertisements:



Amidst the hustle and bustle of city life, Barnsdall is like a beacon that welcomes the eager, the curious and anyone who has a passion for a cause.
Address: 4804 Hollywood Blvd, Los Angeles, CA
Phone: +1 (323) 662-8139?
Photo by The City Project on flickr
You should follow me on twitter here.