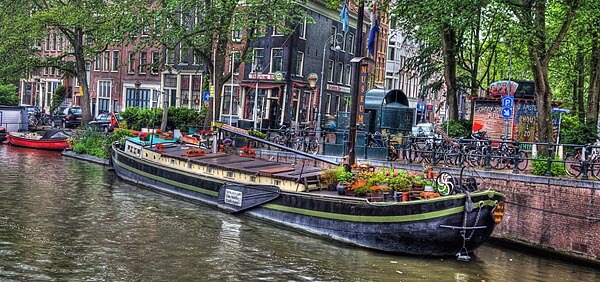 Anyone who has ever been to Amsterdam has seen one of those many houseboats that are tied along the canal banks. Amsterdam is flowing with canals in a way similar to the canals of Venice, Italy and there are many residents there that have taken up living in houseboats. Often when one thinks about houseboats, a picture of a house on the water comes to mind, but the houseboats of Amsterdam are not like this. Looking inside the Houseboat Museum in Amsterdam is the perfect way to find out about these interesting little creations on the canal.
Since it was opened in 1997 by Vincent Van Loon, himself a houseboat owner, the Houseboat Museum has been the place to see what a houseboat in Amsterdam is all about. Go on board and find out how quickly you realize that this boat seems more like a home than you had imagined from the street. The boat is the Hendrika Maria, which is a former freighter built in 1914, and used to transport sand and gravel for almost fifty years prior to its conversion to a houseboat. In 2008 a complete renovation was undertaken to bring the boat into pristine condition for visitors.
Advertisements:



If you are interested in seeing living conditions, viewing what life is like for those living on the water both past and present, the Houseboat Museum is a must for you. Once on board you will find yourself fascinated by the history, and by the sheer separation that you sense from the water that is just beneath your feet. Another benefit to the Houseboat Museum is its close proximity to another major attraction in Amsterdam: The Anne Frank House.
Photo by vgm8383 on flickr
You should follow me on twitter here.