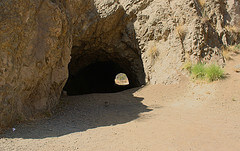 Holy Los Angeles Batman, I thought the Bat Cave was in Gotham City! In Los Angeles even the scenery is an actor. The Bronson Caves in LA may not be a star, but should definitely win a supporting actor role.
They have been used in movies since Douglas Fairbanks' Robin Hood hid there in 1922. They are the "secret" location for horror movies, the Mighty Morphin' Power Rangers, and of course they were Adam West's Bat Cave in the Batman Television series. The caves were originally part of an old quarry, though some people believe they were actually made just for Hollywood.
Advertisements:



The caves are located in Griffith Park, and are open from 5am to 10pm daily. The 'Cave' is actually a tunnel, so it is always shot from an angle to make it look larger. It is a hike to the caves, but the view of the Hollywood Sign from there is worth it. Be careful though, the caves and the surrounding areas have become a hangout for the seedier types, and the police patrols are few. Always tell someone where you are going and get the ranger's number just in case.
Otherwise the caves are a nice visit, with a nice view, and a great place to practice your fake fighting, BAM! POW! ZING! OOF!
Photo by T Hoffarth on flickr
You should follow me on twitter here.